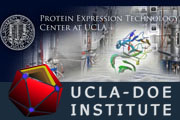 Protein Expression Technology Center
Mark Arbing
marbing@mbi.ucla.edu
(310) 206-2871
Boyer Hall 103
http://www.doe-mbi.ucla.edu/expression
The Protein Expression Technology Center (PETC) was founded in 1994 to facilitate the expression and purification of proteins for structure/function studies. The PETC provides support in all aspects of protein expression from cloning through expression optimization and protein purification. The PETC is a UCLA-DOE Institute for Genomics and Proteomics facility but is open to all researchers.